Documentos de la ascendencia e hidalguía de Vicente Hurtado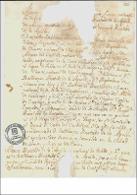 Compartir
Date
1778-11-19
1793-09-25
Abstract
Documentos que certifican la ascendencia e hidalguía de Vicente Hurtado. Incluye: copia de la certificación de ascendencia de Vicente Hurtado; legajos que contienen la relación de servicios y méritos prestados por Vicente Hurtado a la corona; título de familiar alguacil mayor del Santo Oficio de la Inquisición de Cartagena conferido a Vicente Hurtado para ejercer el cargo en Popayán; copia de un fragmento del testamento de Baltasar Hurtado del Águila realizado en 1644; correspondencia; documento sobre la genealogía de Baltasar Hurtado de Chaves y Alonso Hurtado del Águila. Fechados en Madrid, Popayán, Cajibío, Cali, Cajamarca y Lima.
Keywords
Ubication
CO-Ch-US-AHCRS-DMV-1.2.1.R12;
Caja:13;
Carpeta:2;
Folios:50-101;
Collections to which it belong

Except where otherwise noted, this item's license is described as Attribution-NonCommercial-NoDerivatives 4.0 International
Related items
Showing items related by title, author, creator and subject.