Actividades comerciales con Bertrand et Favier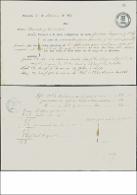 Altmetric and Scopus Metrics
Date
1858-07-21
1866-06-18
Abstract
Correspondencia entre E. Bertrand y Favier y Manuel María Mosquera sobre envío de libros y mercancía. Incluye: retazo de tela, relación de gastos y letras de cambio. Fechada en París.
Keywords
Bertrand et Favier -- Correspondencia -- París -- 1858-1866
Mosquera, Manuel María -- Correspondencia
Bertrand et Favier -- Envío de libros -- Mercancía
Bertrand et Favier -- Gastos
Letras de cambio
Ubication
CO-Ch-US-AHCRS-MMM-1.4.2.3.1.R46;
Caja:28;
Carpeta:4;
Folios:35-104;
Collections to which it belong

Except where otherwise noted, this item's license is described as Attribution-NonCommercial-NoDerivatives 4.0 International
Related items
Showing items related by title, author, creator and subject.