Actividades comerciales con Bertrand Fourquet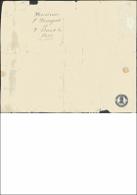 Altmetric and Scopus Metrics
Date
1862-04-12
1887-07-06
Abstract
Cartas remitidas por Bertrand Fourquet para Manuel María Mosquera sobre negocios personales. Incluye: relaciones de cuentas anuales y semestrales; correspondencia y letras de cambio; documentos relativos a la testamentaria de Bertrand Fourquet. Fechadas en París.
Keywords
Bertrand Fourquet -- Cartas -- París -- 1862-1887
Mosquera, Manuel María -- Cartas
Bertrand Fourquet -- Negocios personales
Bertrand Fourquet -- Cuentas
Bertrand Fourquet -- Correspondencia
Bertrand Fourquet -- Letras de cambio
Fourquet, Bertrand -- Testamentaria -- Documentos
Ubication
CO-Ch-US-AHCRS-MMM-1.4.2.3.1.R37;
Caja:28;
Carpeta:1;
Folios:175-383;
Collections to which it belong

Except where otherwise noted, this item's license is described as Attribution-NonCommercial-NoDerivatives 4.0 International
Related items
Showing items related by title, author, creator and subject.