Cartas remitidas por Manuel José Mosquera a su hermano Manuel María Mosquera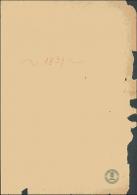 Compartir
Date
1839-04-19
1852-08-22
Abstract
Cartas remitidas por Manuel José Mosquera a su hermano Manuel María Mosquera. Incluye: una carta recibida de su hermano Joaquín en 1853. Fechadas en Bogotá, Villeta y Ubaque.
Ubication
CO-Ch-US-AHCRS-MMM-1.4.1.2.R194;
Caja:16;
Carpeta:4;
Folios:1-149;
Collections to which it belong

Except where otherwise noted, this item's license is described as Attribution-NonCommercial-NoDerivatives 4.0 International
Related items
Showing items related by title, author, creator and subject.
Mosquera de Lehmann, María Josefa; Mosquera, Tomás Cipriano de; Arboleda, Julián de; Mosquera, Antonio H.; Díez Arroyo, Gonzalo; Hurtado, Nicolás; Olano, Tomás; Arroyo, Miguel; Mosquera de Arboleda, Sofía; Díez de Arroyo, Margarita; Pagnamenta, A.; Kissing y Mollmann; F. Hirtz; Ruete, Herman; Pardo y Hurtado; L. Chedé (

1898-10-10

)